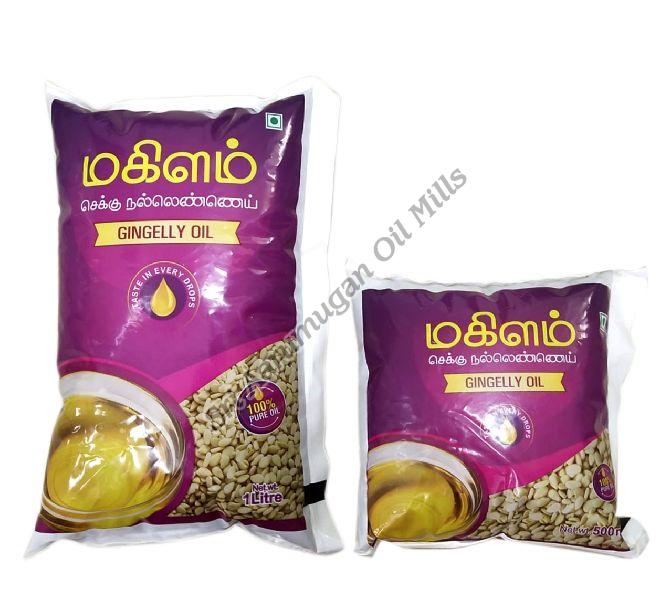 Sesame oil, or gingelly oil, is a golden elixir with a wealth of health advantages and a long history in the realm of holistic healing and culinary pleasures. This liquid gold has carved out a place for itself as a holistic remedy for health and beauty. 1 Ltr 500ml Pouches Gingelly Oil is a cooking staple in bright Asian and Mediterranean kitchens.
A Gourmet Journey through Time -
Gingelly oil's history is a centuries-old tapestry. This oil comes from the sesame plant and was highly valued for its distinct flavour and nutritional value in ancient civilizations such as Babylon and Assyria. It proceeded over the Indian subcontinent, where Ayurveda accepted it for its therapeutic qualities.
Culinary Wonder -
Gingelly oil is more than simply an ingredient in the kitchen; it's a mastermind creating a harmonious blend of flavours. Its subtle, nutty flavour enhances food from many culinary traditions and leaves a lasting aftertaste that tantalises the palate. Gingelly oil works perfectly with a variety of dishes, from marinades to stir-fries, transforming everyday meals into delectable treats.
Nutritional Bonanza -
Beyond its culinary allure, gingelly oil is a nutritional gold mine. Rich in important fatty acids and antioxidants, it becomes an invaluable tool in the pursuit of a healthy lifestyle. Its anti-inflammatory qualities support heart health. Its high vitamin E concentration also nourishes the skin from the inside out.
The Healing Touch -
Ancient Ayurvedic scriptures describe gingelly oil as a medicinal ingredient. Its medicinal qualities, which range from aiding in digestion to relieving joint pain, bear witness to its highly esteemed position. Warm Gingelly oil massages are more than simply a ritual; they are a journey towards renewal that calms the body and the psyche.
Radiance in a Bottle -
Not only is gingelly oil useful in the cooking and health area. Its influence may also be seen in the cosmetic industry, where it manifests as a powerful serum for the skin and hair. It moisturises the skin naturally as a moisturiser, leaving behind a beautiful shine without clogging pores. Gingelly oil massage nourishes the scalp and enhances the health of hair from the roots to the tips.
Beauty Recipes -
Discover the realm of do-it-yourself beauty with Gingelly oil. A simple face mask made with Gingelly oil, honey, and a little lemon juice is moisturising. A mixture of gingelly oil, aloe vera, and lavender oil gives your mane a glossy sheen and turns your house into a hair salon for opulent locks.
Decoding Varieties -
When one investigates its variety, the adventure with Gingelly oil becomes even more exciting. Light sesame oil gives food a subtle flavour and is frequently used in Asian cuisines. Conversely, black sesame oil is a mainstay in Mediterranean cooking due to its strong flavour. The decision between toasted and untoasted sesame oil gives this liquid gold investigation an additional level of intricacy.
A Culinary Symphony -
A culinary delight, toasted sesame oil has rich, fragrant flavours. A simple sprinkle at the very end of cooking completely changes the flavour of the food and leaves an enticing aroma in its wake. Its robust flavour character elevates any culinary creation and makes it a standout in sauces and dips.
In the exploration of health and taste, 1 Ltr 500ml Pouches Gingelly Oil appears not only as a component but also as a way of life. Its adaptability is boundless, from the sultry recesses of healing resorts to the searing works of gourmet chefs. Discover the mysteries of this liquid treasure and use Gingelly oil to serve as your road map for both your culinary and holistic endeavours. After all, there's a tale waiting to be revealed in every drop.